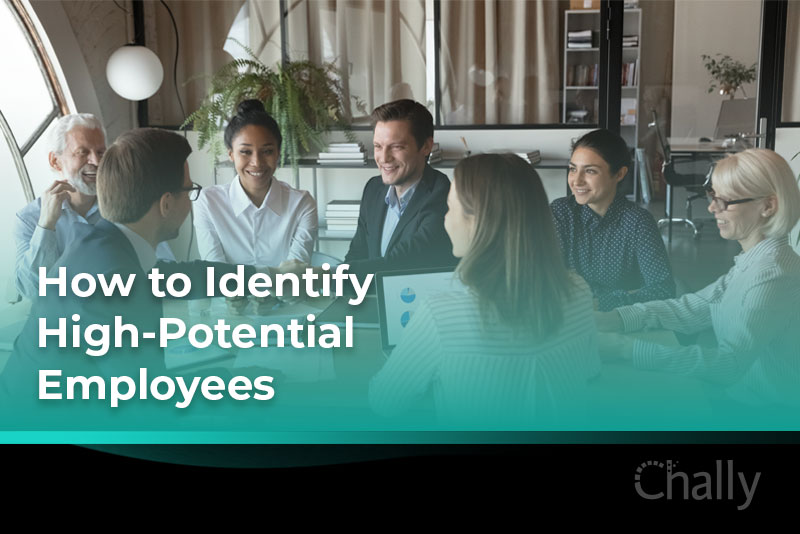 April 4, 2023
Many organizations have employees that stand out from the rest. This can be because of their work output, how well they interact with clients or many other reasons.
However, figuring out how to identify high-potential employees, even among some of your best workers, can be difficult. How do you know who to invest in for your company? And what makes high-potential employees so integral to your organization's success?
Figuring out who your company's high-potential employees (HiPos) are is imperative for continued organizational success. However, assessing employees for their development potential – especially when they may not even be in a leadership position yet – can quickly become stressful. This article, along with Chally's helpful assessment tools, can help you identify, develop, and retain high-potential individuals for your company. We will also explore:

What Is a High-Potential Employee?
A high-potential employee is someone with the necessary leadership skills, aspiration, soft skills, and knowledge to eventually become a senior-level employee. Essentially, HiPos employees have strong potential for rising into your company's top positions. Preferably, your company's high-potential employees will excel in their job performance and have the necessary soft skills and talent potential for leadership and communication.
Another factor in identifying these potential employees is recognizing that a HiPos individual also wants opportunities to grow within the company. Employees are 12x more likely to leave a company if they are not given these opportunities. Therefore, figuring out how to develop employees to their full potential while offering growth opportunities for employees can help you retain these high-potential employees as well.
Characteristics of High-Potential Employees
There are multiple characteristics of high-potential employees to be aware of when identifying talent. The criteria for high-potential employees go beyond who your company's top performers are. Knowing the qualities of high-potential employees will help you figure out overall employee potential in your company and create a success plan tailored specifically for them.
It can be hard to know where to start looking for high-potential employees, but some important characteristics that can help you assess potential talent include:
Curious Over Judgmental: HiPos are open to exploring new or creative ideas instead of being judgmental or only relying on past methods of doing things.
Higher Risk Tolerance: HiPos look to solve risks, difficulties, or challenges head-on.
Social/Soft Skills: Most high-potential employees need soft skills just as much as technical knowledge. This includes leadership skills, empathy, and creativity.
Self-Motivated and Driven: HiPos will take initiative to get work done and help foster growth.
Committed and Engaged: High-potential employees are loyal and committed to the company and other employees. This means they will also be engaged with long-term success and growth.
Flexibility: Another way to notice high-potential employees' performance and potential is by how flexible they are. HiPos are flexible and can adapt to any change that may be thrown their way.
Fosters Positive Relationships: High-potential employees will also help create positive internal and external relationships with employees, coworkers, and clients. This allows the company to grow in multiple ways.
How to Identify High-Potential Employees
It's important to identify the characteristics of high-potential employees and know how they factor into workplace behaviors. Knowing how to assess talent while identifying high-potential employees can make all the difference in fostering growth for the right employees. Learning these qualities, coupled with Chally's talent assessment results can help your business thrive. Some examples of behaviors that can help you identify talents and potential include:
Demonstrates Leadership Qualities: High-potential talent should show the desire to lead. Whether it's taking the lead on a new project or showing initiative to go above and beyond their job description, leadership qualities are important for HiPos employees.
Flexible in Changing Environments: With how quickly business practices change in today's world, adapting to new changes on the fly can show you that your employee might be ready for high-potential development.
Entrepreneurial: High-potential employees should be able to look out for the business as a whole and suggest new ideas when applicable. This helps foster their growth as well as the company.
Decisive and Acts on Those Choices: Making solid decisions without freezing up is one of the most important qualities for a high-potential employee. Employees who showcase this behavior in their daily life can also help take the weight off of their boss' shoulders.
Engaged in their Role: Lastly, your employee showing signs of being engaged in their role is imperative. This can look like actively communicating with employees, demonstrating confidence in their skills, or setting goals without you having to prompt them.
High-Potential Employees vs. High Performers
You may have multiple employees who excel at their job. But how do you determine the difference between a high performer and a high-potential employee? There are some similarities between the two, such as exceeding in their current role and being engaged at work.
However, high performers typically don't possess the soft skills or leadership qualities necessary for being a high-potential employee. Learning how to identify top talent involves paying attention to these key differences.
Soft Skills: Often, high performers lack the proper empathy, communication, and teamwork skills that sets high-potential employees apart.
Leadership Skills: Just because your high-performance employee does well at their job doesn't mean that they'll know how to lead a team towards success.
Knowledge: While your high-potential employee doesn't have to be the most knowledgeable team member, they need to keep up with most aspects of the job so they can communicate effectively with employees and clients.
Commitment and Engagement: High performers, while committed to the job, may not be fully engaged or passionate about their work like high-potential employees are.
In the long run, managing high-potential employees instead of high-performance ones can save your company time and money. However, both are necessary for the success of your business. High performers are integral to everyday success and workplace culture, whereas high-potential employees can help foster long-term success in ways other employees can't.
Chally's predictive talent analytics can help your business find and retain high-potential employees.
Benefits of Hiring High-Potential Employees
Multiple ways of hiring and retaining high-potential employees can help your business stand out from the rest. Your organization can become more efficient and help create a succession plan too.
Learning how to identify development opportunities for high-potential employees can also benefit your company in the following ways:
Increases Productivity: When your team is invested in their work, this will increase their overall productivity and sense of accomplishment. One important way that this happens is by hiring high-potential employees to motivate others with their passion and leadership.
Saves Money: HiPos can also help your business save money because they catch onto new ideas quickly and also work hard to implement new business ideas.
Fosters Healthy Workplace Culture: Creating a healthy and happy workplace culture is imperative for success. The soft skills that HiPos possess can help foster this type of environment.
Long-Term Success: High-potential employees are invested in your company, meaning they'll be there for the long haul. They want the business to succeed and will do what they can to help maintain long-term success.
Developing High-Potential Employees
Once you've found your ideal candidate, the next step is learning how to develop high-potential employees and their talents. But what can you contribute to high-potential employees' development? What skill sets or qualities should you teach them?
It's important to realize that every high-potential employee succeeds for various reasons and in different departments. Therefore, creating an individualized program can truly help each HiPo shine. This also shows them that their skills matter to your organization and that you care about their growth and prosperity.
Your company can implement some other techniques, including mentorships, leadership workshops, online courses, and utilizing Chally's unique assessment data. Meeting with your employees and seeing what areas they'd like to foster growth in can also help you know what their strengths are, along with where they want to improve.
Should You Tell Employees They Are Considered High-Potential?
There are multiple benefits to telling employees that they are considered high-potential. Often, they will become more invested and committed at work. However, it's important to weigh the negatives too.
Some employees could become anxious knowing their bosses are "watching" their progress. In other cases, the word could get out amongst the other employees and the workplace attitude could shift. Make sure you consider the pros and cons before sharing this information with your employees.
How to Retain High-Potential Employees
You've finally found and developed your employees. Now, the only thing to do is figure out how to retain high-potential employees. Since you've already given your employees the tools they need to excel, what if they decide to go elsewhere? How can you make sure they feel valued at your company and want to stay for the long haul?
One of the most important ways to retain high-potential employees is to continue to show them ways they can advance in their careers. If you continue to recognize and foster their talents, this is a clear sign you value their work and presence. Openly communicating with them about their prospects, goals, and where they want to go from here shows transparency and maturity as well.
Also, frequently checking in with your high-potential employees shows them that their feedback is taken seriously. A few other ways to retain high-potential employees include:
Giving them opportunities to lead
Offering meaningful mentorships
Being open to alternate work plans (such as remote or hybrid work)
Making sure their values align with your company's
Showing them you value their input
Assigning more responsibility
Chally's Predictive Talent Assessment Helps You Find and Hire High-Potential Employees
Chally can help your company find, develop, and retain your high-potential employees. Our Predictive Talent Assessment not only describes the traits your company needs but also explains how these traits will predict an individual's likelihood to succeed. We look at a holistic assessment of employee behaviors, which allows us to help you identify and develop high-potential employees faster and with greater success than traditional interviews.
Our evidence-based assessments can make sure your company stands out from the rest when it comes to selecting and developing talent. By retaining high-potential employees, you will start to see an increase in productivity, positivity, revenue, and long-term success for you and your organization.
Contact us today to get started finding and hiring high-potential employees for your company.