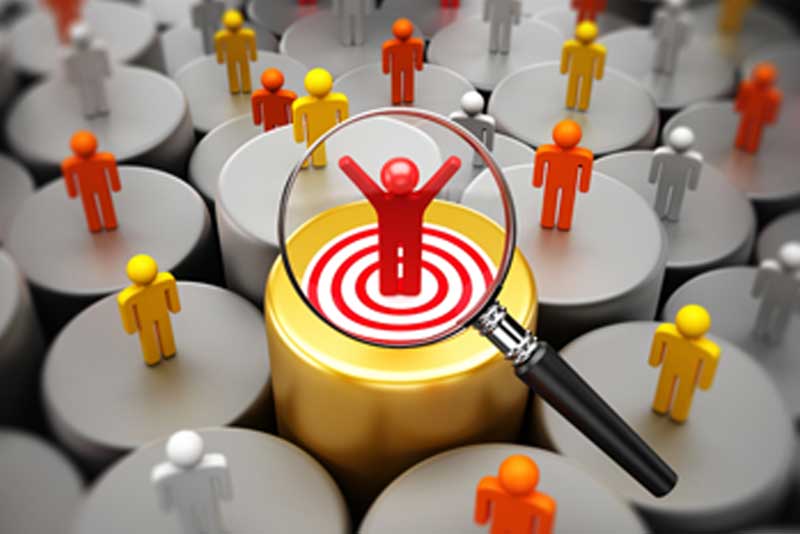 January 5, 2016
Companies emphasizing growth and specific business initiatives often find it appropriate to segment sales activities beyond recognizing the four broad segments of customers. Extensive Chally research of more specialized sales forces has identified 14 specific sets of sales and service skills that are required to succeed in specialized sales roles. The sales specialist "map" below demonstrates a decision tree that allows a sales executive to identify the one unique profile best suited to accomplish a specialized sales initiative.
A series of no more than five questions will lead to the best match
Questions:
Is this position field (outside) sales or inside (tele) sales?
Is the position proactive (outbound tele or direct sales contact) or reactive (inbound tele or indirect field sales through a distributor) or primarily customer service?
Is the position primarily responsible for a full line or a specialized product or service?
Is the sales effort account based (strategic or major accounts) or geographically based (territory sales)?
Is the salesperson's responsibility primarily to acquire new accounts (hunter) or maintain and grow existing accounts (farmer)?
Sales Specialty Map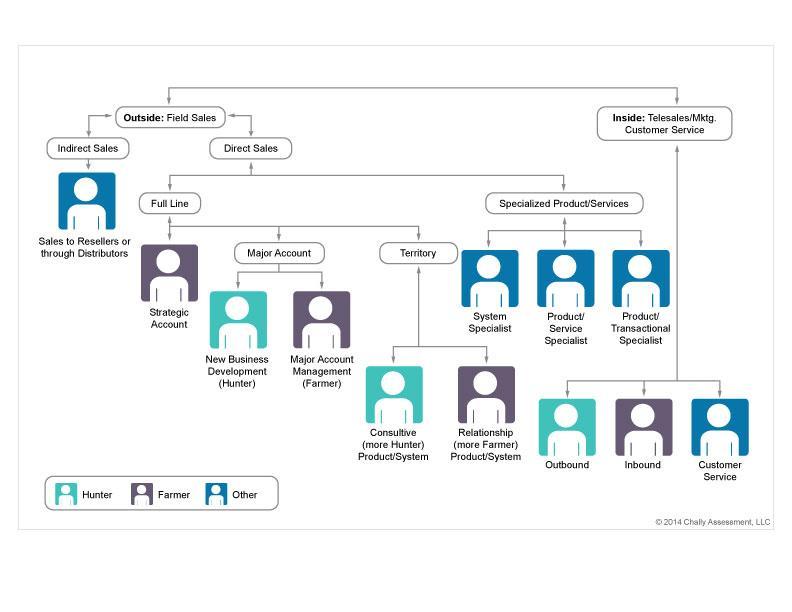 Roles and Requirements of Specialized Sales Positions
Indirect Sales (via distributors or resellers) Acquires skills at training customers (on sales and programs), making joint sales calls, sales motivational and presentation techniques, product knowledge, and the ability to maintain repeat sales
Strategic Account Manager Strategic relationships are built with major customers through initiative, a willingness to work long hours, proactive assistance and support, a willingness to further develop technical competence, and an emphasis on sharing information that is pertinent and will have lasting educational impact
New Business Development (Hunter) Demands individuals who can develop leads, find opportunities, penetrate prospects and customers, and be willing to put in long hours as well as problem solve and close
Account Management (Farmer) Requires excellent customer relations skills focused on working internal systems on the customer's behalf, and effectiveness at explaining and clarifying issues to the customer; this is driven by the desire to increase business and the ability to work long hours when necessary to accomplish that
Territory Consultative Product Sales Focuses on establishing a credible image, developing new business through effective qualifying and presentation skills driven by the motivation to be an effective consultant
Territory Relationship Product Sales Calls for a disciplined and systematic approach to goal achievement and a focused response to customer needs in a service capacity, as well as effective communication skills and the ability to work a sales plan in account penetration; removes objections and gives permission to buy
Territory Consultative System Sales Demands the skill to develop business through effective lead generation, qualification of profitable prospects, and tailored presentations; willing to work long hours to meet objectives, sets ambitious goals and achieves them through effective selling, and understands sales strategies and tactics
Territory Relationship System Sales Adapts image to accommodate customers, gives personal attention, and takes hands-on responsibility for assuring continued customer satisfaction; knowledgeable of sales strategies and pushes to set personal records in sales; comfortable with the recognition of a high-profile role
System Specialist Focuses on assuming the leadership to learn customer needs and goals, stays continuously aware of the market and spends the long hours it takes to influence and train others
Product / Service Specialist Customers look for individuals who provide reliable information, learn their business, know the market, and communicate effectively while remaining dedicated to their own sales results
Product / Transactional Specialist Demands initiative and perseverance to develop leads, qualify, and close on an ongoing basis
Outbound Telesales Takes the initiative to present benefits and answer objections in order to grow the business; willing to learn the products and services; can persevere for as long as necessary to succeed
Inbound Telesales Requires an image conscious vocal demeanor in a service oriented individual who is interested in learning the customer's needs, solving problems, and making the appropriate (and profitable) recommendations
Customer Service Representative Calls for a focused commitment to take personal responsibility for satisfying all customers, regardless of their attitude or style; solutions must be intelligently thought out, often quickly, and presented with a positive attitude