Evidence-based sales talent management decisions
What Makes Us Different
Our expertise is your advantage
We Specialize in Sales
Chally gets sales. We've lived it. We built our business model around it. We know what it takes to run and grow a successful sales organization. Our experience working with sales organizations spans size of company, industry, segment, private or public.
We have been contributing innovative points-of-view to the discipline of sales for over four decades. Our World Class Sales Research database contains results from interviewing 80,000 business decision-makers across 7,300 sales organizations. We also conducted more than 400 studies to create the industry's largest database of 135 predictive sales, service, and sales management competencies.
The Predictive Power of Our Assessment
The Chally Assessment measures an individual's aptitude, motivations, and traits in order to predict on-the-job behaviors and natural capacity for specific sales, service, and sales management roles.
Our pre-hire assessment far surpasses personality tests and traditional interviewing techniques for predicting capacity for success in specific roles. Learn more.
Our Efficient, Effective Role Analysis Process
Our third key differentiator is the way we analyze roles. The industry standard role profiling analysis involves a long, labor intensive, costly, and judgment-laden process of interviews. Our approach is a good deal more structured and efficient. Four decades of data about thousands of roles in thousands of organizations shows that there are only 18 distinctly different families of sales, service, and sales management roles. We can place a client's position in the correct role family by asking no more than eight questions. Once a position is categorized, we know what the best predictors of success will be.
This process allows clients the option of profiling their own roles with the same confidence in the results as if we did the work for them. The bottom-line is an efficient, effective, and much lower cost process.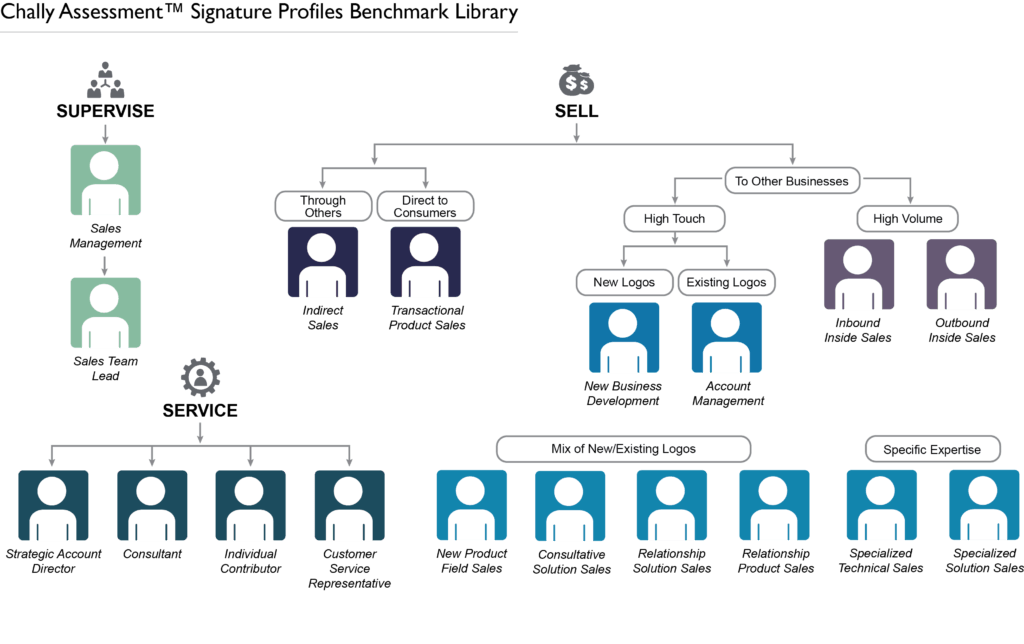 Our Technology
Our cloud-based, mobile-enabled platform lets you profile sales roles, assess incumbents and applicants, and generate a wide array of simple, clean, easy-to-read reports to gain insights that drive sustainable, profitable revenue growth.
Our intuitive user interface enables you to administer assessments after just a few minutes of introductory training. You'll also have instant access to numerous types of reports once an assessment is complete.
Collaborative Consulting Approach
Chally isn't in business to sell assessments. Our assessment and reports are simply a tool we offer to help you gain insight about your sales talent.
Our team of consultants, client services managers, and data analysts help you use your data to shed light on your questions about your people. We sit side-by-side with you to help you determine if your challenges stem from problems with attracting, hiring, motivating, developing, or deploying people and then decide what to do about it.
Unlike other consulting firms, we partner with you along the way.  We put your needs first. Our processes are transparent and our people are generous. Our goal is to teach you to fish and to be here when you need advice.