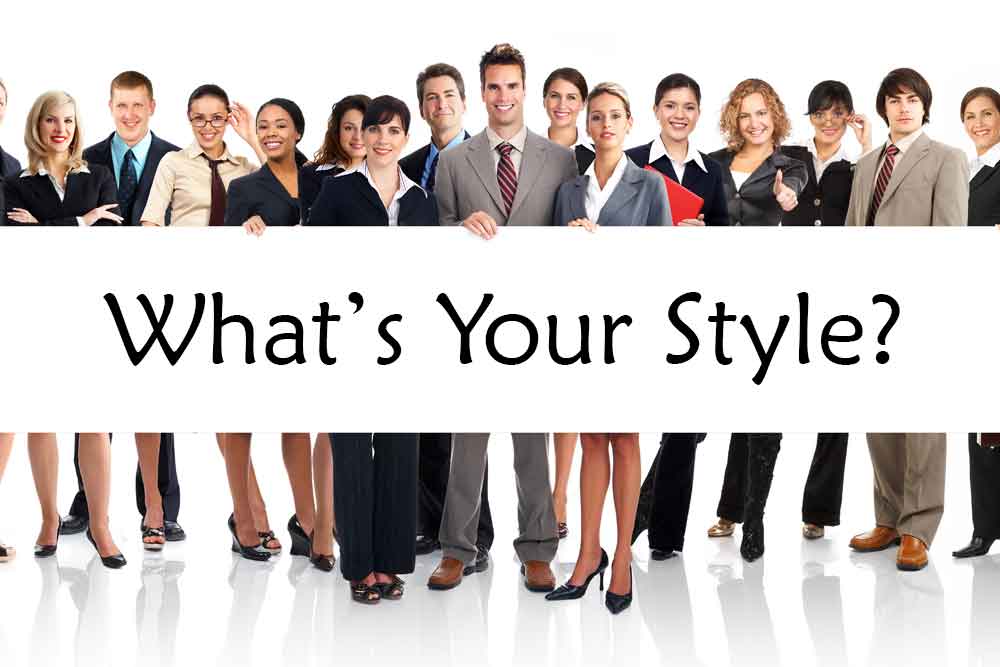 July 10, 2019
Selling "Style" is the term we at GrowthPlay use to talk about the aspects of our personality that affect how we like to sell. We find individual styles to be useful in helping to understand what motivates different sellers. A person's selling style can influence the kinds of sales positions they will be attracted to and energized by. For example, someone who is extroverted, and theatrical will likely prefer a sales job that is action-oriented and has a short sales cycle. On the other hand, someone with a quiet, patient, and people-oriented personality will likely be drawn to selling roles that require a relationship approach.
To learn more about strengths, styles, and skills, download our whitepaper, A Triple Fit Approach to Sales Talent. And let us know how you are using strengths, styles, and skills in your work.

Understanding the personalities and styles of your sellers can help keep them engaged and motivated. It can also let you identify and act on potential mismatches between sellers and their roles. In our work with clients, we frequently see talented salespeople who have been placed into arole that requires a sales approach or process that runs counter to their selling style. Even when these sellers have the "can do" competencies (strengths), they may find it draining to work in environments that don't energize them. For example, some complex consultative solution sales have deal cycles that take months or even years and require great patience coupled with diligent attention to close. A seller who prefers quick action and fast wins will likely become frustrated when such deals drag on – potentially resulting in disengagement and even unwanted turnover.
Interestingly, it seems that certain personality styles best align with the four different sales approaches we describe in our Quadrant Solution. Here's a brief description of each of the four Selling Styles and the sales approach they often gravitate to.

---
A Closer Look at GrowthPlay's Selling Styles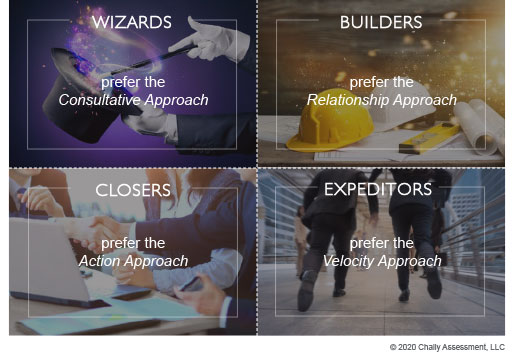 Closers
Closers are perceived as theatrical & confident. They usually have less fear of personal rejection than the other selling styles. Their preferred sales techniques are building emotion & enthusiasm and creating a sense of urgency. They are often motivated by income potential, size of commissions, the emotional appeal of the product/service, the glamour of product ("high status" is best), and the chance to be onstage. Closers often prefer the Action Approach in sales. They take pride in their ability to influence decision makers to make innovative purchases that help them stay on the cutting edge.
Wizards
Wizards are perceived as experts in their industry and seek to be educators to their prospects or customers. They are usually more academically inclined than the other selling styles. They are often motivated by management opportunities, sophistication of product or service, the prestige or image of company in the eyes of the general public and being part of a strong team. Wizards often prefer the Consultative Approach in sales – demonstrating competence and credibility and being systematized and organized. They pride themselves on their ability to gain buy-in using tests and pilots and to align multiple stakeholders. Do you want to say anything here about the length of the sales cycle they can handle or prefer to decipher from other approaches?
Builders
Builders are perceived as dependable & loyal. They are often motivated by quality products and services, control of territory and selling method, image of the company in customers' eyes, and by having support from colleagues in customer service, sales operations, etc. They tend to like freedom and independence and don't like to be closely managed. Builders often prefer the Relationship Approach – showing patience and persistence, demonstrating product and customer knowledge, and getting things done on behalf of their customers. They pride themselves on the depth of their relationships and the fact that customers will even follow them if they end up moving to a competitor.
Expeditors
Expeditors are perceived as responsive & service-oriented. They are often motivated by frequent interactions with people, security, opportunity to match job with hobbies/interests, and flexibility. Expeditors often prefer the Velocity Approach – demonstrating product knowledge, being congenial and approachable, and exhibiting energy and stamina. Expeditors take pride in their ability to quickly build rapport and help customers make buying decisions that are aligned to their specific needs.
---

A Caution: Styles, Skills, or Strengths
Recognizing selling styles can help you unleash the passions and potential of each of your people.
However, there is a big caveat when it comes to making style part of your talent management strategy.  A person can like doing something but not be good at it. For example, all throughout my youth and teenage years I loved acting, singing and being onstage. I participated in musicals, talent shows, and pageants galore. It wasn't until my early 20s when my parents showed the videos to my soon-to-be husband that I realized that I can't sing. Seriously.  Liking an activity does not always equate to skill at doing that activity.
In a nutshell, selling styles can help you attract and motivate certain types of sellers, but talent decisions based on style alone can backfire. So, don't stop at styles. You need to formally evaluate strengths and skills. Remember our Triple Fit framework:
Styles can give you a sense of what motivates your sellers.
Strengths can help you select the right people for specific sales roles.
Skills tell you what your activities your sellers have mastered and where they may need development to up their game.